« Back
Anesthesia Patient Simulation Center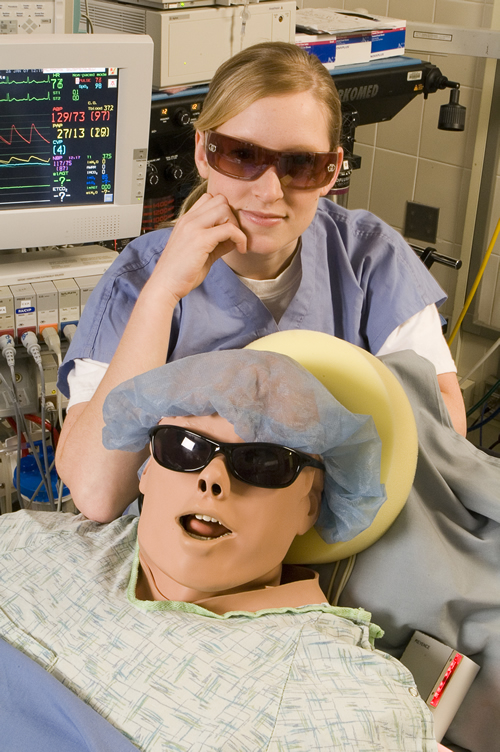 The purpose of this site is to support training, practice and research opportunities in the human patient simulation lab for medical students, anesthesiologists and residents to the benefit of our patients, research initiatives and educational directives.
The Patient Simulation Center is currently located in the Health Education Center (HEC) at the University of Texas Medical Branch at Galveston. The center was originally built in 2001 and was housed separately under a generous grant by the Sealy and Smith Foundation for the purpose of training faculty, house staff and medical students in a safe learning environment where errors are encouraged and learning is fostered in a non-threatening, non-judgmental environment. The center moved in 2018 to the HEC and currently occupies two teaching rooms (a simulated OR and a simulated critical care area) which are wired for video and audio recording, a control room and a conference room with the potential to expand into other areas of the Center.
Courses are offered year-round in Crisis Resource Management, Airway Management and Trauma Resuscitation. We also offer courses in Pediatric Critical care, Family Medicine, Obstetrics, ACLS, Emergency Room and Critical Care Medicine. The Anesthesia Patient Simulation Center was also the first program in the country to be endorsed (in 2008) by the ASA Editorial Board for Simulation Education to offer the MOCA simulation component course for Part IV credit towards board recertification. These courses are offered year-round.
The "Human Patient Simulator" (HPS) is a high fidelity, computer driven mannequin that can be programmed to have a variety of physiologic presentations based mathematically on physiologically accurate algorithms. These mannequins react to injected medications and otherwise respond hemodynamically as human patients do. Our center has adult, child, baby, neonatal and portable mannequins as well as a variety of task trainers.